Red Capsule Locations
Here is a set of lists of all of the locations of all of the Red Capsules that you can find around Radiator Springs in the Disney Infinity Cars Play Set. They are laid out in the same order as you will find on the customisation screens so that you can more easily work out which ones you have missed.
With the exception of the capsules inside the Stunt area and two mission specific capsules, you can find all of these from the very beginning of the game.
See also the page that lists all of the Green Capsules along with their locations and which Toy Box items they unlock.
Building Customisations
These Red Capsules also unlock the same building customisations in the Toy Box.
Trim
Accent

Grass Accent
In the bushes at the end of the lower path in the tunnel to the Race Track and Stunt Park.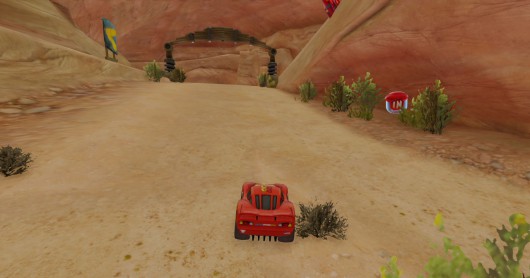 Wall
Ramone's Car Customisations
Toppers
Note that there's not a Silver Piston Cup to find, I don't know why they have Bronze and Gold but no Silver but that's just the way it is.
Guido's Tire Customisations
Tires
Town Decorations
These Red Capsules also unlock their corresponding individual toy in the Toy Box. The two default decorations are unlocked in the Toy Box by finding the Green Capsules Plants Toy Pack 1 and Plants Toy Pack 3.
Decoration