Crossover Coin Locations
Found placed around Knowhere in the Guardians of the Galaxy Play Set of Disney Infinity: Marvel Super Heroes (2.0 Edition) are twenty floating tokens with the faces of Iron Man or Nova on them. Picking up each full set of ten matching coins will unlock that character for use within the Guardians of the Galaxy Play Set.
Unlike the other Play Sets you will need to do more than just the first mission to be able to find them all, the first point at which you can have gathered all of a set is when you reach Cosmo's location at the top of the Central Operation Tower (around six missions if ignore the Collector).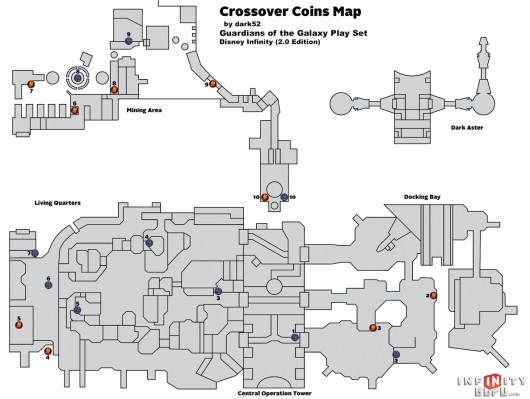 Iron Man Crossover Coins
Nova Crossover Coins