Latest News
The last ever Play Set for Disney Infinity is out now so here's a guide to the locations of each of the collectible Sand Dollars that are hidden throughout the levels of Finding Dory.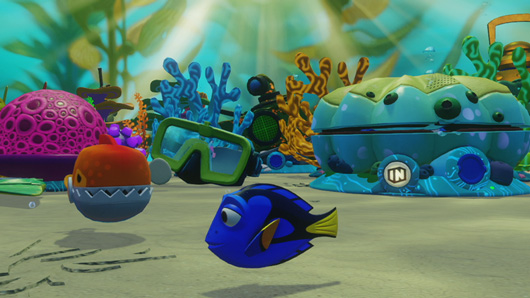 I have also created an Unlockables page that lists the methods required to unlock each item in the Play Set. And you can plan out your skills with the new Dory and Nemo Skill Trees.
That just about wraps up my coverage of Disney Infinity. It's been a fun three and a half years, see ya!
If your console is connected to the internet you should now (or very soon) be able to download the final update to Disney Infinity 3.0 that brings in the Finding Dory Play Set which is due to launch in about a month's time - so if you see the Play Set in the shops early and are able to buy it you'll be able to play right away.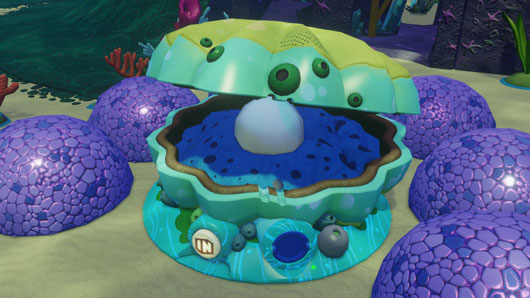 The update also heralds the arrival of ten new Achievements and Trophies for Marvel Battlegrounds and the Finding Dory Play Set as well as five pages of new Finding Dory themed items for your Toy Box.
So far it doesn't seem that the patch has accidentally left in any hints to any of the other originally planned characters but in case you missed it Kotaku posted an article last week detailing some of the plans that were in place before the game got canned. It includes things like the identity of the Disney Animation Play Set (Moana, of course), a range of giant sized premium figures, and even some of what could have been for 4.0.
Alice, Mad Hatter, and Time are due out next week. And the Finding Dory Play Set and Nemo are due out in a month to round out the series.
Unfortunately it has emerged today that Disney are shutting down Avalanche Software, resulting in the loss of approximately 300 jobs, and with it ending the Disney Infinity franchise.
"After a thorough evaluation, we have modified our approach to console gaming and will transition exclusively to a licensing model," says Disney consumer products and interactive media chairman Jimmy Pitaro. "This shift in strategy means we will cease production of Disney Infinity, where the lack of growth in the toys-to-life market, coupled with high development costs, has created a challenging business model. This means that we will be shutting down Avalanche, our internal studio that developed the game. This was a difficult decision that we did not take lightly given the quality of Disney Infinity and its many passionate fans."

The imminent releases of the standalone Alice Through the Looking Glass figures and the Finding Dory Play Set and figures are still scheduled as previously expected but beyond that it seems there will be no more.
Somehow we're a week into May and still not even an announcement of the next NEXT announcement video, instead here we have another one of those things that are inevitable if you wait this long to tell us anything: a leak! Over on Disney Infinity Codes they've spotted an Amazon Mexico listing for a single Nemo figure, who will be part of the previously revealed Finding Dory Play Set, which includes our first look at the figure.
He comes packaged with two Power Discs that were originally released in the very first Power Disc wave of Disney Infinity 1.0: Marlin's Reef and Nemo's Seascape. Perhaps they had trouble creating anything other than a basic fish as European listings peg this as the only additional character for the set beyond Dory herself.
So why are they waiting so long to announce these things? The Alice toys are due out in just 18 days and have still not yet been officially revealed but they hardly seem like something that would need to be kept so tightly under wraps, neither really does the Finding Dory content. At this point the only thing I can possibly think of that could be holding them back is some sort of Marvel announcement in the video. Otherwise this is an utterly bewildering wait.
Over at Infinity Inquirer they've spotted a tweet by FlashDash3579 which appears to show a photo of the back of some promotional food packaging with an image of a Dory figure for Disney Infinity 3.0 along with text confirming that she'll be part of a Finding Dory Play Set.
Hopefully we won't have to wait another 4 and a half months for Disney Infinity PR to properly reveal all these new characters. Especially as the film's out in three.
Oh and the Kylo Ren LightFX figure has been shown off a little by the official Star Wars Instagram.
In a PS4 patch released today to get the game ready for the launch of Marvel Battlegrounds on Tuesday, several unannounced characters appeared in the Character Townspeople and Character Portrait pages of Disney Infinity 3.0's Toy Store. Those characters being Alice, Mad Hatter, and Time who are all from the upcoming Alice Through the Looking Glass film.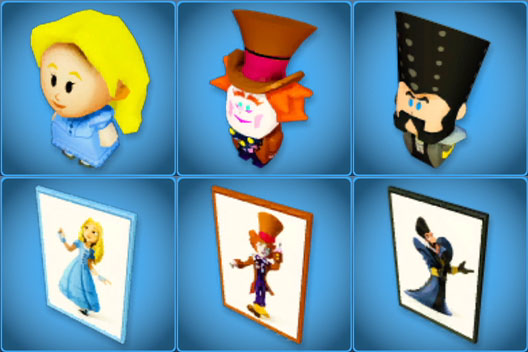 The film is due out at the end of May so the figures can't be too far away.
However their inclusion in this 2.5GB patch does essentially mean the likelihood of them being part of a Play Set has pretty much now vanished. This means speculation for the Disney Play Set slot is back on! Possible other films that could fill that gap releasing this year include The BFG, Pete's Dragon, and Moana, with Moana now being a probable frontrunner.
And of course the patch being live means that anyone who has managed to get hold of the Marvel Battlegrounds figures early can start playing with them.
Thanks to Marrow for the heads up on this one.
Polygon has an article about today's announcements on the Disney Infinity Next video which mentions that there will not be a Disney Infinity 4.0 in 2016, instead they will be creating four new Play Sets (that count is apparently including Battlegrounds) to fill the gap.
Just like the upcoming Marvel Battlegrounds these will all require an internet connection to update your game. While the exact properties they will be based on were not specifically mentioned they did say that the other three will be Star Wars, Pixar, and Disney themed, and hints at the end of the Next video suggest Finding Dory and Alice Through the Looking Glass as high possibilities for two of those slots, and on pure guesswork I'd say the Star Wars is probably going to be based on Rogue One now that they've said no new Infinity game this year.
In the rest of the Disney Infinty Next video they did little more than confirm all of the characters we knew about (Ant-Man, Black Panther, Vision, and Baloo) but here's a trailer for Battlegrounds.
And here's some images that were released alongside the video:
Disney Infinity Next has been put forward as a new video series to promote upcoming content, so if the hinted at properties are correct we can perhaps expect the next one in May.
Finally giving us a time and date for when they're going to officially reveal some new information about what else they have planned for Disney Infinity 3.0, Disney have scheduled a video titled "Disney Infinity Next" to run on the 1st of March at 10AM PT (6PM UTC).
What is there to reveal? Officially? Plenty. Even though we're less than a month away from the launch of Battlegrounds somehow the leaked Marvel characters are still not officially unveiled, we've got Baloo to be told about, a LightFX version of Kylo Ren to be illuminated, and the recent rumblings of an Alice Through the Looking Glass Play Set or characters. The real question is are they going to reveal anything that we don't already know about?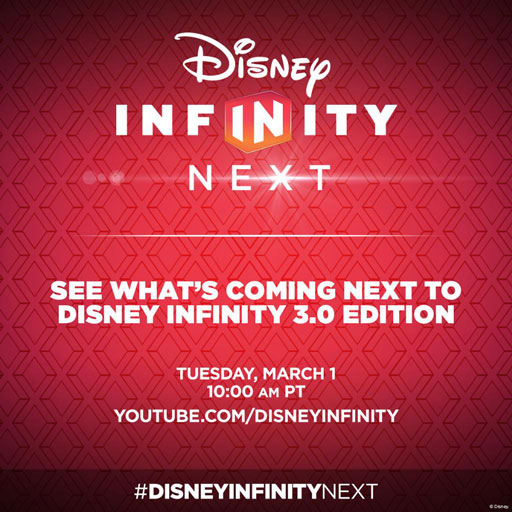 At 12PM PT they'll also be running a live stream on twitch.tv where you'll be able to ask questions and watch them play, so probably a similar format to the Toy Box TV Live that they used to do more often.
And finally, in five US cities there will be special screenings of the new film Zootopia along with the Disney Infinity Next video on March 1st. Those cities are Anaheim, CA, San Francisco, CA, Chicago, IL, Orlando, FL, and New York, NY. You'll be able to sign up for one of those screenings on the official site tomorrow.
Despite Disney having had three months to announce something, once again the new Marvel characters have leaked before their reveal, along with a brand new Disney Original, Baloo from The Jungle Book.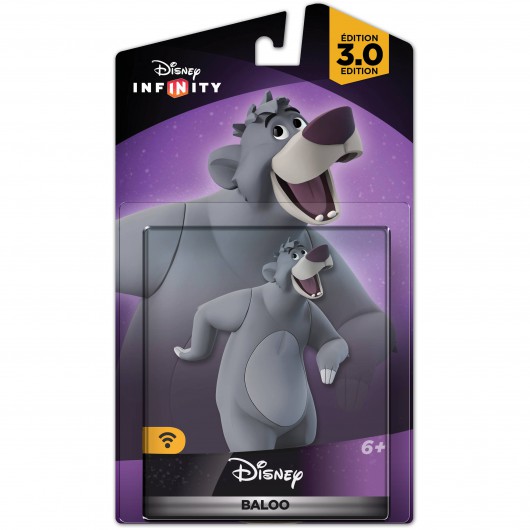 A recent (since removed) posting on Amazon gave the Marvel Battlegrounds Play Set a March 15th date so expect the same for the individual Marvel characters, the release date for Baloo is still unclear but I would expect it around the same time.
Also shown is the first clear image of the Marvel Battlegrounds Power Discs which does indeed include Ghost Rider's motorcycle that John Vignocchi confirmed and then almost immediately retracted a few months ago.
Unfortunately still no sign of the actual Play Set itself so the mystery of who will be joining Captain America goes on...
Update 19/1: The Play Set has been seen and the mystery has been solved, the character joining Captain America is... nobody! The first ever one person Play Set for the first ever four player local co-op Play Set! Of course!
The yellow WiFi icon means that you will need to connect your console to the internet to receive an update for the game in order to play as these characters (with the exception of Black Suit Spider-Man, he's already in there from Disney Infinity 2.0).
Rounding out the year is this guide to all of the unlockables within the The Force Awakens Play Set. As with previous Unlockables guides it has all the Toy Box toys in Toy Store order for ease of working out which ones you've missed.
The Force Awakens Unlockables Guide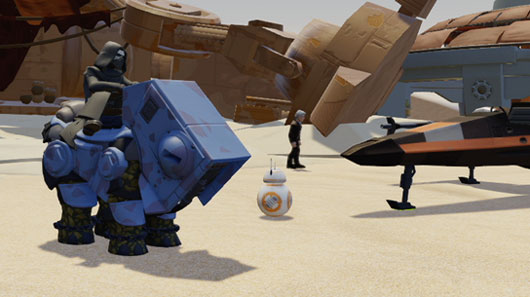 That pretty much concludes the guides for The Force Awakens, I'll add a Challenge locations guide and perhaps some other one but other than that it's all done.