In a PS4 patch released today to get the game ready for the launch of Marvel Battlegrounds on Tuesday, several unannounced characters appeared in the Character Townspeople and Character Portrait pages of Disney Infinity 3.0's Toy Store. Those characters being Alice, Mad Hatter, and Time who are all from the upcoming Alice Through the Looking Glass film.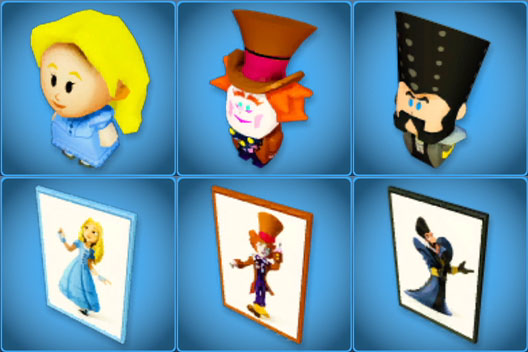 The film is due out at the end of May so the figures can't be too far away.
However their inclusion in this 2.5GB patch does essentially mean the likelihood of them being part of a Play Set has pretty much now vanished. This means speculation for the Disney Play Set slot is back on! Possible other films that could fill that gap releasing this year include The BFG, Pete's Dragon, and Moana, with Moana now being a probable frontrunner.
And of course the patch being live means that anyone who has managed to get hold of the Marvel Battlegrounds figures early can start playing with them.
Thanks to Marrow for the heads up on this one.