Despite the recent announcement of a delay lots of retailers have now posted pre-orders for Disney Infinity, now due to be released in August.
The general US pricing is $74.99 for a starter pack, $12.99 for an individual character, $29.99 for a triple pack of characters, $34.99 for a play set, and $4.99 for a pack of two power discs.
Amazon and GameStop have a free figure and a free pack of Power Discs when you pre-order the Starter Pack with them, Best Buy have just a free figure and the Disney Store has an offer for $15 off a future purchase. And Walmart seem to have... erm... very slightly lower prices.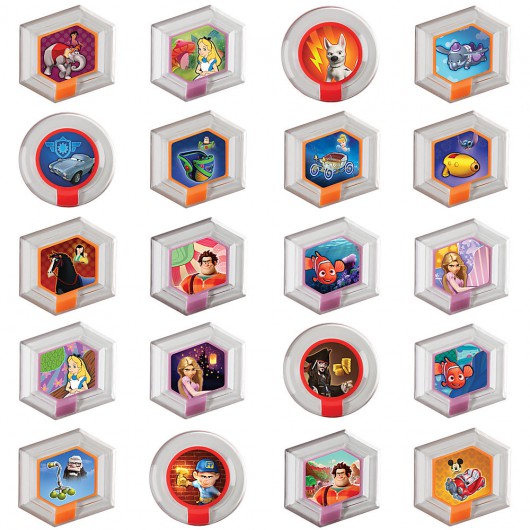 The full selection of 20 "Series 1" Power Discs has been shown off on the official Disney Store with discs for a large number of Disney franchises; Aladdin, Alice in Wonderland, Bolt, Dumbo, Cars, Toy Story, Cinderella, Lilo & Stitch, Mulan, Wreck-it Ralph, Finding Nemo, Tangled, Pirates of the Caribbean, Up, and Mickey Mouse.
Unfortunately with only four power-up discs (the round ones) it seems their policy of one hexagonal and one round disc means that you'll be getting a lot of duplicate power-ups in your search for each of the sixteen Toy Box discs in these blind packs. But of course if you're planning on playing local co-op that may not be such an issue as you'll need discs for both characters on the Infinity Base.