Looks like it's time to start up that hype train for Disney Infinity 3.0! A new German fansite mydisneyinfinity.de has spotted listings on Taobao, a Chinese online marketplace, for Mickey Mouse and Mulan in what appears to be Disney Infinity 3.0 packaging - but in a case of disappointment as old as Disney Infinity itself they are both marked as Toy Box only.
The listings also include a photo of the back of the packaging which shows off a whole selection of other Disney Originals. They include the two Tron figures that got cruelly snatched away from us in 2.0 (Sam Flynn and Quorra), the aforementioned Mulan, the classic design Mickey Mouse, Minnie Mouse, Olaf from Frozen and the five emotion characters from the upcoming Pixar film Inside Out (Joy, Fear, Anger, Disgust, and Sadness) - the large number of which could indicate a Play Set (but that is of course pure speculation).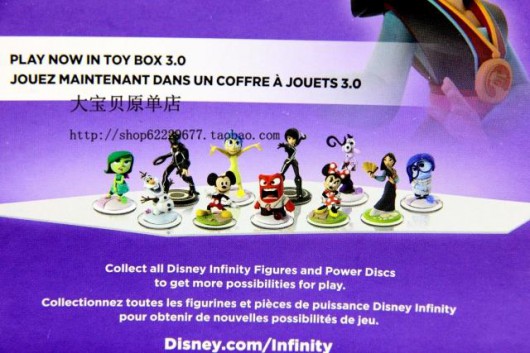 Remember that in the past we have seen marketing material for characters that did not appear in the final games, so even with this clear evidence of their existence don't get too attached to all of them until they are more officially revealed.
Update 27/4: Additional boxes have appeared. The three new single boxes are Disgust, Fear and Sadness. And yes, they do indeed have an "Inside Out" Play Set icon on the back. Which means that Joy and Anger are therefore likely to be the pair that will be in the Play Set Pack itself.